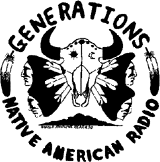 NDN Voices of Our Times
from the Generations-Native American Radio Archives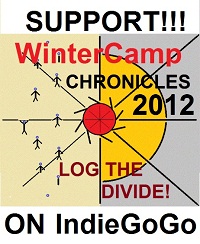 The WinterCamp Chronicles Radio Page is for Independent, Public and Community Producers, Program Directors and Stations who can use Sound Bytes of Native American Voices throughout their program schedule. There is also a link to the WinterCamp Chronicles: NDN Voices of Our Times (Radio Program) in MP3, which is a sample mix of sound bytes. Provided directly below are program promos for that program, which all you need to do is add the times of broadcast.
Below each speakers section there are Links to Podcast promos in 90, 60 & 30 second versions. Please feel free to download these and follow the WinterCamp Chronicles "Quotes" airplay with a podcast promo for convenient identification of the sound byte.
The WinterCamp Chronicles is a demonstration initiative for evolving Native American Oral Traditions in modern times into state of the Art, Cutting Edge Technologies from the foundation of Spoken Word and through Independent Native Radio. These voices return from those days they were spoken to the Digital Age of the new millineum via online, broadcast and portable media channels. As the late Phillip Deere said, "They World Now Knows!"
Thank you for your interest in the WinterCamp Chronicles. Please help these voices carry forth their vital messages for everyone in these times. Run these sound bytes as Standalone "Quotes", create your own mix version and run that or, mix them into other programs where they fit. We also encourage everyone to also transfer these voices to portable media (CDs & MP3 players) to further their reach. In closing, we Thank You again for your support of the WinterCamp Chronicles and we hope only that everyone gain as much from these voices as we have since we recorded them so many years ago.
FAIR USE Doctrine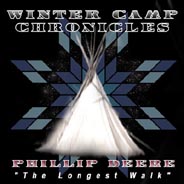 featuring Sound Bytes of THE LONGEST WALK speech
by the late Phillip Deere (1929-1985)
March 20, 1981 Boulder, CO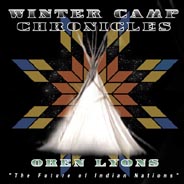 featuring Sound Bytes from "THE FUTURE OF INDIAN NATIONS" speech
by Chief Oren Lyons,
Feb. 3, 1989, Boulder, CO
Go Down Stream

How Much
We've Lost

Be Thankful

First Law, Water

Not Long Ago

Peace

We're The Ones

Seventh Generation

Common Cause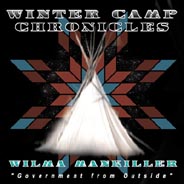 featuring Sound Bytes of "TRIBAL SOVEREIGNTY" speech
by Chief Wilma Mankiller
March 21, 1989 Boulder, CO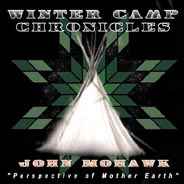 featuring Sound Bytes of "PERSPECTIVE OF MOTHER EARTH" Speech
by the late Prof. John Mohawk (1945-2006)
Apr. 18, 1990, Boulder, CO
Listen to Online or DOWNLOAD the
WinterCamp Chronicles: NDN Voices of Our Times (Radio Program) in MP3 Now!
TIME: 57:00 (1 hr.)
Check Out the
WinterCamp Chronicles Podcast:
NDN Voices of Our Times
Check Out the
WinterCamp Chronicles:
NDN Voices of Our Times
at SoundClick
Our WinterCamp Chronicles Podcast features music from songwriter/musician/poet David Campbell
David Campbell: From his Pretty Brown album (MP3) - "Grandfathers"
Music Videos on YouTube from David Campbell -
marakakore
Pretty Brown Buck Man Knows The Time Will Go
Instrumental music featured is from Hip Hop artists INDIENS)
EDUCATIONAL SERVICES
TWO ELK ENTERPRISE

WinterCamp Chronicles Radio Page
created by Richard Two Elk
TWO ELK ENTERPRISE - GENERATIONS - Native American Radio Web
Est.: MAY 2000
Updated: JANUARY 2012
© R. Two Elk, May 2000