TWO ELK ENTERPRISE
Diversified Products and Services
Denver, Colorado


BATTLE DRESS JEWELRY
---
---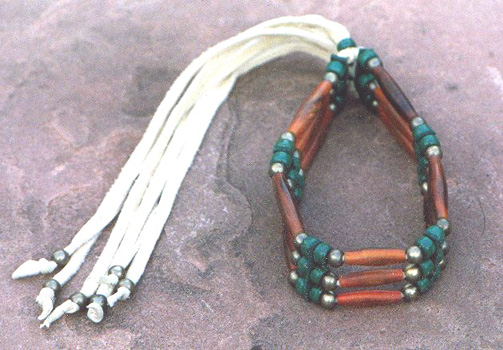 Battle Dress can be ordered in a variety of colors and sizes. All of our Battle Dress uses only genuine horn or bone hairpipe, glass crow beads and solid metal beads, No Plastic Parts!!!
Our Original Battle Dress builds on traditional forms of hairpipe jewelry with innovations in materials and design. These innovations make Battle Dress durable and easy to handle, as well as comfortable.
We offer Battle Dress Jewelry direct to the customer and wholesale to retailers and resellers. Prices posted on this site are retail prices on par with market prices for Indian Goods.
BATTLE DRESS: Art You Can Wear
Battle Dress is decorative arts for the 21st century. We're not the first to string chokers on deerhide lace instead of sinew, nor to use shell casings along with hairpipe in the jewelry. We simply build on these ideas to offer a durable product which fits the day. We offer art you can use, art you can wear, art that is decorative.

We've made Battle Dress easy and convenient for you to use. Our Slide Bead closure for our Battle Dress makes putting on and taking off our jewelry as easy as "sliding the beads". No more hassle with tying strings behind your neck, or with one hand free!

Our Battle Dress Chokers are available in two (2) styles; Our Basic Choker and our Shell Casing Choker. They can be made with 2-5 strands, with horn: amber, black or red, or the white bone hairpipe, as well as your choice of Colored Glass and Metal Beads! Get your own Battle Dress Chokers at the same price or below the cost of others on the market!

Our Basic & Shell Casing, Battle Dress Mini-Breastplates also use genuine hairpipe, glass and solid metal beads strung on handcut deer hide lace. The smaller "Mini-Breastplates" are ideal as gifts to young aspiring dancers, or as quality decorative wall hangings!

Now you have several options for ordering and paying for your Battle Dress jewelry!

Click here to find out more, at the Order Information Page

NEXT PAGE
OR
BACK TO THE TOP